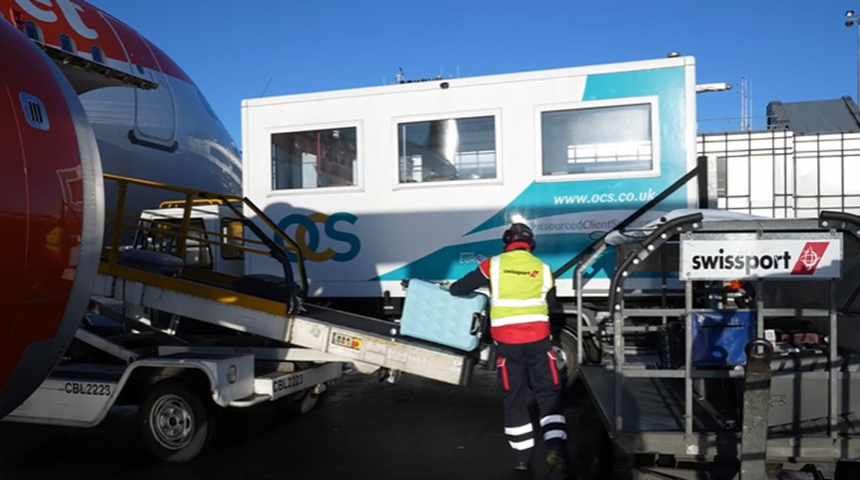 It may surprise you, that Belfast International Airport works closely with many service partners and has over 4000 people working across the site, all helping you from arrival to departure, many of whom you won't even see.
As the  airport we are responsible for airside operations, terminal activity as well as car parking, however for much of your journey you will be interacting with different service partners who operate within the airport whether it's going through security, serving you food and drink, checking you in or returning your luggage.
Official Airport Parking
We have four official car parks at Belfast International Airport, Short Stay, Main, Long Stay and Park and Fly.  If you need to book, change a booking or ask for assistance you will always deal with an employee of Belfast International Airport.
The Drop off Zone, pick up point and coach park also falls under our Car Parking Team.
To find out more about our car parks please visit our website.
Check-in Desks and Boarding Gates
The Check-in desks and Boarding Gates are operated by the Airline or their handling agent.  All airlines will have a contract with their chosen handling agent, however it is worth noting some airlines may use their own staff.  The main handling agent at Belfast International Airport is Swissport.
The airline chooses the opening and closing times for the desks.  You can check these times on your boarding pass or the airlines website.
easyJet: Check in desks open two hours before departure and close 40 minutes before departure. 
Jet2.com/Jet2 Holidays: Check in desks open two hours and 40 minutes before departure and close it strictly 40 minutes before departure. Jet2 have their own customer service staff at check in and the boarding gates.  They also have self check-in machines for those who just need to drop their hold bags off. 
Ryanair: Check in desks open two hours before departure, and close 40 minutes before departure. 
TUI: Standard check-in opens two hours and 30 minutes before departure for short and mid-haul flights, and at least three-and-a-half hours before departure for long-haul flights. They also have their own airport customer service staff at check in.
Baggage
At Belfast International Airport all baggage handling services are provided by your airline directly or their contracted handling agent.
We maintain the equipment and ensure everything is in good working order in our baggage reclaim halls.
Swissport are the handling agent for easyJet, Jet2, Ryanair and TUI. If you have any baggage related queries, please contact your airline directly or send our own Customer Services Team a message and we can direct your query. Contact us here.
Security
At Belfast International Airport security team is outsourced to a third party. We work alongside our contracted security provider Wilson James to ensure everyone can travel safely.  The Department for Transport (DfT) are the government department who oversee air travel and they set the security regulation for all UK airports; our teams on the ground implement these regulations  These checks are the same across all UK airports.  The Wilson James team at Belfast International Airport only have your safety in mind when carrying out the regulated security processes.
To speed up the process we do ask passengers to come prepared for security. View our website for helpful security information.
For further information please visit the DFT website.
Airport operations
The operations team manage the terminal and the airfield. This team ranges from customer services, lost property, airfield safety and emergency assistance to name a few. They are on the ground with you our passengers and work closely with our service partners to ensure a safe and secure operation.
Special Assistance
Special Assistance is provided for those passengers who require extra time or assistance getting through the airport and onto their flight.  At Belfast International Airport this service is provided by.  YOU must prebook this service through your airline, tour operator or travel agent.
Further information can be found on our website. 
Food, Beverages, and Shopping outlets
Who doesn't love to shop or kick back and relax in an airport departures lounge? We have a fantastic range of food and beverage, and shopping outlets and these are managed by our retail partners on-site.
We do facilitate the space for retailers and work closely with each to try and provide the best service to our passengers.
Want to know what is on offer? Visit the Shop and Eat section of our website.
Immigration and passport control
Arriving on a domestic flight? No need to worry, you can head straight through to baggage reclaim.
If you are arriving on an international flight, you have to proceed to passport control as you enter the airport after leaving the aircraft.  This falls under the control of the UK Border Force, part of the UK government. UK Border Force staff are responsible for protecting the UK border and we cannot interfere with their processes.
Air Traffic Control
NATS operate the air traffic control services on behalf of Belfast International Airport. They operate in many airports right across the UK and are responsible for over 2.5 million flights and 250 million passengers travelling over the UK and across the North Atlantic. 
| | | | | | |
| --- | --- | --- | --- | --- | --- |
| | | | | | |