We have continued our engagement with Respond Healthcare in respect of providing assistance to those passengers travelling with Stomas.
Respond Healthcare, the leading supplier of stoma and continence prescription services across Northern Ireland, has carried out specialist training with security staff at Belfast International Airport with the aim of creating awareness of people travelling with stomas.
In Northern Ireland there are approximately 10,000 people living with stomas at any one time with around 1,000 new cases every year spread across all of the healthcare trusts.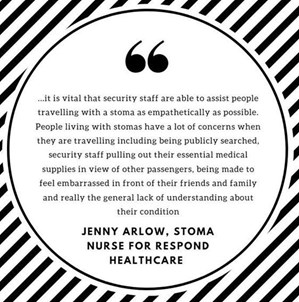 Jenny Arlow, Stoma Nurse for Respond Healthcare said: "With the rigorous security routines now in place when travelling through airports, it is vital that security staff are able to assist people travelling with a stoma as empathetically as possible. People living with stomas have a lot of concerns when they are travelling including being publicly searched, security staff pulling out their essential medical supplies in view of other passengers, being made to feel embarrassed in front of their friends and family and really the general lack of understanding about their condition. 
"Respond Healthcare, in association with TG Eakin has carried out training with the security staff of Belfast International Airport to help create awareness of people travelling with stomas. The training addressed common concerns passengers with stomas have when travelling, how security staff can help elevate the concerns and what procedures should be put in place to ensure passengers can pass through the security process in a dignified manner,"
For further information or advice on living with a stoma or to request a copy of Respond's 'Going On Holiday' booklet please call free on 0800 028 6848 or go to www.respond.co.uk.