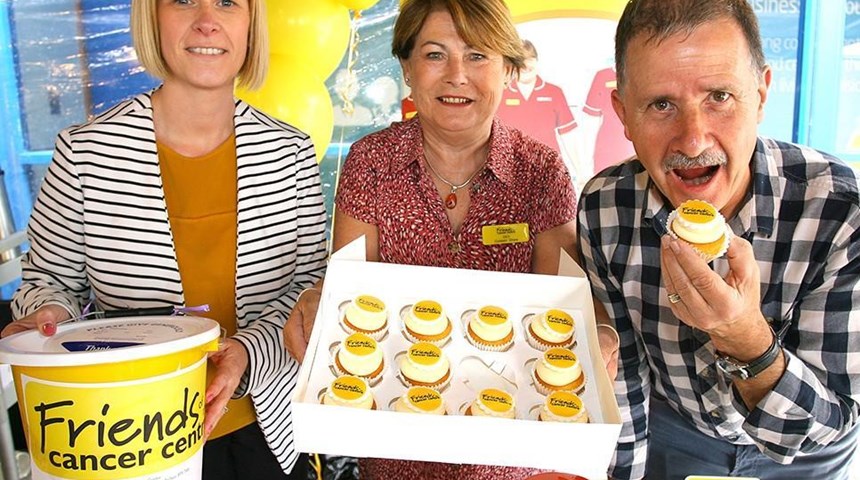 On Wednesday 19th June we launched a partnership with our charity partners, Friends of the Cancer Centre, with an outdoor 'Mellow Yellow Tea Party' to raise funds for their ongoing support of cancer patients and their families.
The rain held off and the cakes and pastries bought and baked by employees were in high demand – bringing many donations for a very worthy cause.
Based at the heart of the Cancer Centre at Belfast City Hospital, the charity funds life-saving and life-changing projects that make a real and lasting difference to the lives of thousands of local people affected by cancer.
Our link with the Friends of the Cancer Centre came about when they were put forward by our colleague, Ken Bell. Ken ,who has personally received support from the Friends of the Cancer Centre, praised their work saying: " I knew I had to nominate them when the opportunity came up. They help many people and any funds they raise help those who are so much in need. This was my way of thanking them and I couldn't believe it when they were chosen."
Head of HR at Belfast International Airport, Jaclyn Coulter, said: Our Corporate Responsibility programme links us to charities nominated by our employees. When Ken suggested Friends of the Cancer Centre and explained what they do, we were delighted to form a relationship with them. The success of today's Tea Party shows that our employees also value the services they offer."
Colleen Shaw, Chief Executive of The Friends of the Cancer Centre said she was delighted with the support shown by the airport and its employees.
"We are delighted with the support the airport is providing us with. Of the funds raised today, every penny will be used to provide patients with the best care possible. Not only is the airport raising funds but they are helping us to spread the news about how we help those who come through the Cancer Centre's doors."
If you wish to find out more about Friends of the Cancer Centre, click here.
| | | | | | |
| --- | --- | --- | --- | --- | --- |
| | | | | | |