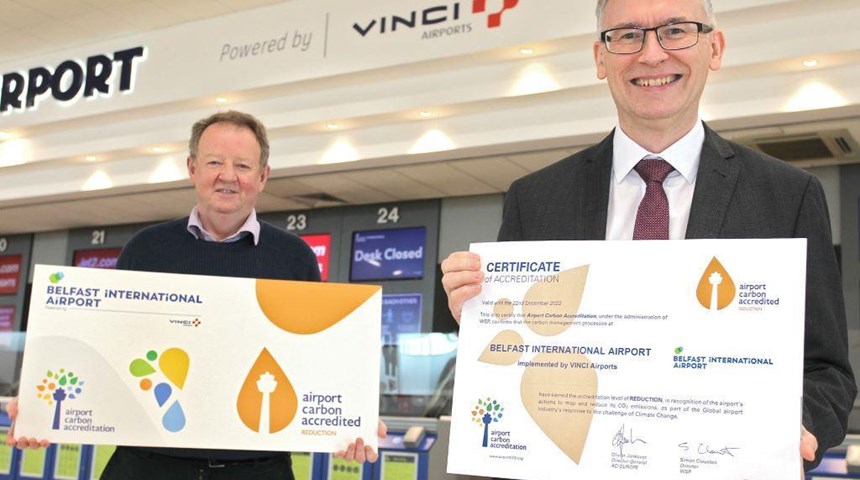 Belfast International Airport, member of the VINCI Airports network since 2018, has entered the Airport Carbon Accreditation (ACA) program by reaching the level 2 Reduction for its initiatives to reduce its carbon footprint. ACA is the only global, airport-specific program that certifies airports' efforts to manage and reduce its carbon emissions.
This accreditation illustrates the efficiency of VINCI Airports' environmental action plan in Belfast airport. Since joining VINCI Airports network, Belfast airport has achieved a -20 % decrease of its direct carbon emissions, with key actions including LED relamping of the airport terminal and improvement of the management of energy consumption.
VINCI Airports' environmental strategy, the first global action plan in the airports industry, establishes preventive and corrective measures aimed at developing sustainable and environmentally responsible approaches to air transportation. 100% of airports from VINCI Airports network are already in the ACA programme.
Graham Keddie, managing director, Belfast International Airport said "The airport team have been focused and dedicated on the comprehensive management and mitigation of our carbon footprint.  We are delighted to have achieved this accreditation and are committed to working towards the next levels."

ACA is a program of Airports Council International. The accreditation recognizes efforts in these 6 levels: mapping, reduction, optimization, neutrality, transformation, and transition.

Olivier Jankovec, ACI EUROPE Director General commented: "I would like to warmly congratulate all of the team at Belfast International Airport and indeed VINCI Airports for their work and this great achievement that sees Belfast International Airport join Airport Carbon Accreditation directly at Level 2 'Reduction'. The demands of Level 2 certification are rigorous, requiring strategic engagement and diligent work from the airport operator to effectively reduce CO2 emissions from the daily operations of the airport. I commend their excellent efforts and look forward to witness BFS airport's progress within Airport Carbon Accreditation, the industry's global standard for carbon management."
About VINCI Airports
The world's leading private airport operator, VINCI Airports operates 53 airports in 12 countries in Europe, Asia and the Americas. Thanks to its expertise as a global integrator, VINCI Airports develops, finances, builds and manages airports by providing its investment capacity and its know-how in optimizing operational performance, modernizing infrastructures and managing their operations. environmental transition. VINCI Airports is the first airport operator to have committed to a global international environmental strategy in 2016, to achieve the goal of net zero emission across its entire network by 2050.
For more information :
| | | | | | |
| --- | --- | --- | --- | --- | --- |
| | | | | | |