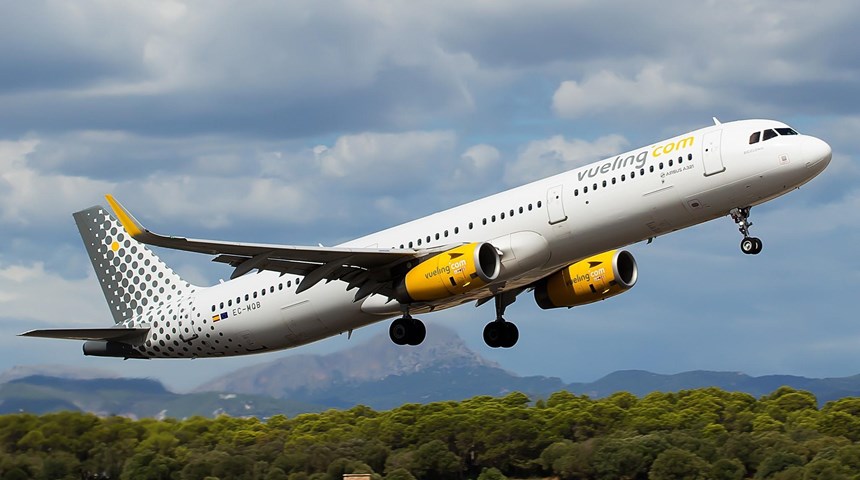 Spanish Airline Vueling, an IAG member airline, has launched its first route from Belfast International Airport to Paris Orly.
• First time that Northern Ireland has been connected to Paris-Orly airport
• First time that Vueling, an IAG airline, will operate from Belfast International Airport
Spanish Airline Vueling, an IAG member airline, has launched its first route from Belfast International Airport to Paris Orly.
The flight was welcomed by Chief Executive of Visit Belfast Gerry Lennon and airport Business Development Director Uel Hoey. The service will operate twice a week, Tuesdays and Saturdays, on an A321 aircraft and will depart Paris Orly at 17:55 and arrive in Belfast at 18:45.
This positive achievement for Belfast International Airport marks a series of firsts:
• This will be the first time that Paris-Orly has been served from Northern Ireland and will be a welcome boost for local travellers visiting the French capital and surrounding area.
• Vueling are the first IAG airline to operate regular service to Belfast International Airport since 2001, showing the airport's capacity to attract new airlines, building on VINCI Airports' best practices and network of partner airlines.
• For the first time Northern Ireland is now connected to both the two major Paris airports, showing the commitment of Belfast International Airport and VINCI Airports teams to develop connectivity and bring maximum travel options to their passengers.
Uel Hoey, Business Development Director, Belfast International Airport said: "We are thrilled to have Vueling, an IAG member airline, commence services from Belfast International Airport. This is a new route and new airline for Belfast International Airport and is a real boost for the local travel industry."
Yvonne Moynihan, Legal Counsel from Vueling said: "I am thrilled to be here for the inaugural flight to Belfast from Paris Orly with Vueling. In the aftermath of the pandemic, our goal is to be part of the revitalization of tourism and Vueling's proposition will enhance travel options for all our customers. We are committed to offering our customers great customer service and value fares."
Gerry Lennon, Chief Executive, Visit Belfast said: "Connectivity is crucial to Belfast and Northern Ireland's tourism recovery, so we're delighted to welcome Vueling's new service from Paris as a hugely important step in rebuilding our visitor economy. After such a challenging period for our travel industry, the introduction of this service is also a real vote of confidence for Belfast. As the gateway to Northern Ireland, this service will enable us to reengage with one of our key markets in continental Europe, support our efforts in re-establishing the Belfast City Region as an exciting, vibrant leisure and business destination and importantly see a welcome return of international visitors here.
Niall Gibbons, Chief Executive of Tourism Ireland, said: "The launch of the new Vueling flight from Paris to Belfast is really good news for overseas tourism to Northern Ireland and another important step on the road to recovery for our sector. As an island, the importance of convenient, direct, non-stop flights cannot be overstated and this new flight will certainly expand travel options for French holidaymakers wishing to visit Northern Ireland. We already work closely with Vueling and we look forward to co-operating with them to maximise the promotion of this new service. Tourism Ireland is committed to working with Belfast International Airport, Vueling and our other key partners, through co-operative marketing, to drive demand for flights to Northern Ireland."
| | | | | | |
| --- | --- | --- | --- | --- | --- |
| | | | | | |