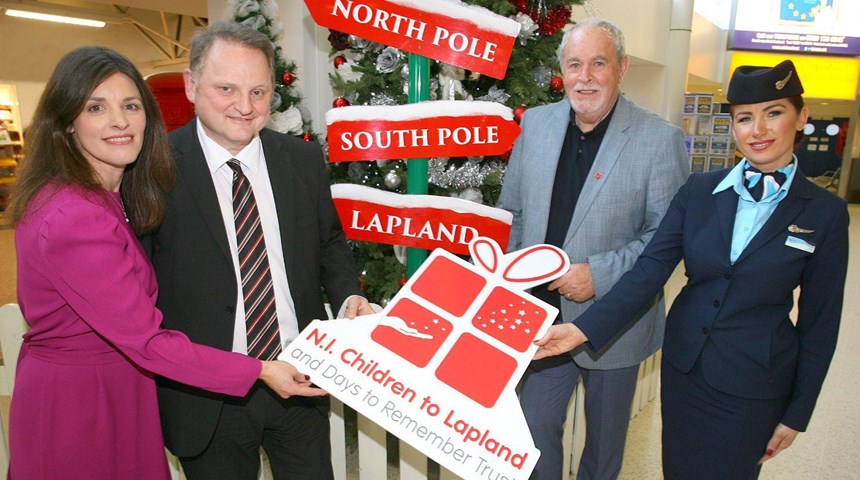 This Christmas, the Northern Ireland Children to Lapland and Days to Remember Trust will make the dreams of local children with terminal illness and life-limiting conditions come true by taking them on a wonderful trip to Lapland. With the help of TUI, Northern Ireland's leading holiday provider, the charity will take over one hundred children to the winter wonderland on the 17th December, flying from Belfast International Airport.
The children will have a memorable fun-packed day that includes reindeer and husky dog rides, mini skidoo adventures, a snow mobile safari and magic sleigh rides as well as meeting Santa Claus himself.
All of the children taking part in the trip are nominated by health workers from paediatric departments in local hospitals and will be accompanied by a group of dedicated doctors, nurses and allied health professionals who give up their own time to travel with the group to ensure the children can experience the wonder of Christmas. 
Gerry Kelly, President of Northern Ireland Children to Lapland and Days To Remember Trust (NICTL) says:"This trip is something I always look forward to. Seeing the children get excited over everything Lapland has to offer is wonderful. We are absolutely thrilled to have TUI on board this year. The amazing team offered their support to provide this special flight to Lapland and we're so grateful for all the effort they've invested to make this trip possible.
"We would also like to thank the fantastic team at Belfast International Airport and the ground staff from Swissport who go above and beyond the call of duty every year.  Not only do they dress up in Christmas costumes they also open all of the check in desks at 5am to ensure the children have a quick and smooth check in. In addition, the airport's security team always ensures a speedy transition despite the significant levels of medication and medical equipment that is required for this flight, which is essentially a flying hospital!
"It would be remiss of us not to also mention our wonderful ground handlers in Lapland, Wild Nordic, who play a critical role in this trip. They have been working with us since the charity was established over 10 years ago and are responsible for the land arrangements which are tailor made to suit the complex needs of the children. Everything is bespoke and exclusive to our group to avoid unnecessary delays. All of these aspects make the trip unforgettable and we appreciate everyone's contribution.
"There is no better Christmas gift to give and on behalf of the children we would like to say a huge heartfelt thank-you to all involved!"
Charlotte Brenner, Marketing Manager at TUI Ireland says: "We are delighted to be able to support the charity and ensure that the children are able to enjoy the magic of Lapland this year. It is amazing to see so many people come together and do their part to make this special day happen. This trip is such a fantastic experience for these young people and we are delighted to be involved."
Uel Hoey, Business Development Director at Belfast International Airport, said, "We are extremely proud to partner with this amazing charity and TUI to make this trip a truly memorable experience for all of the children. We have worked with the Northern Ireland Children to Lapland and Days To Remember Trust for many years and we are looking forward to welcoming these very important passengers on 17th December as they head off for some magical adventures in Lapland."
Established in 2008 the Northern Ireland Children to Lapland and Days To Remember Trust has transported over one thousand terminally ill and life-limited children, to Santa Park in Roveniemi, the official hometown of Santa Claus on the Arctic Circle in Lapland, Finland.  
For further information on NI Children to Lapland and Days To Remember Trust please visit www.niclt.org 
| | | | | | |
| --- | --- | --- | --- | --- | --- |
| | | | | | |