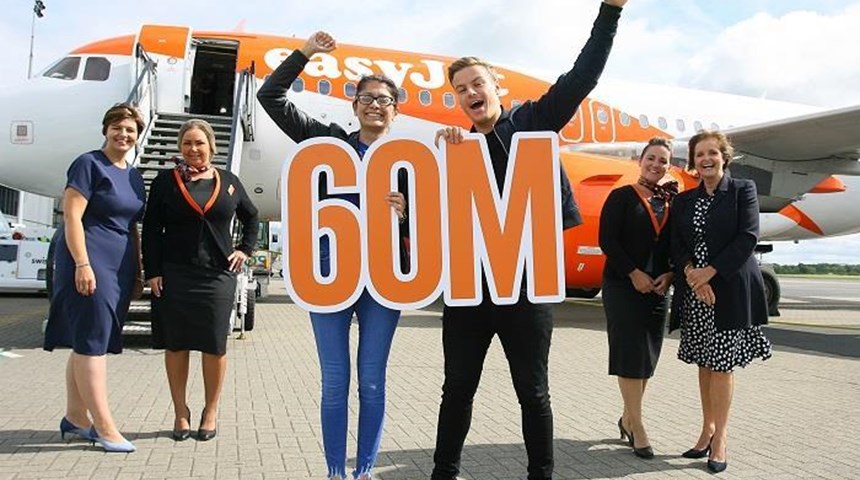 easyJet, Europe's leading airline and Northern Ireland's largest airline, has today celebrated flying 60 million passengers to and from Belfast International Airport.
easyJet and Belfast International Airport teamed up with one of Northern Ireland's most popular radio stations u105, broadcasting the celebrations live from Belfast International Airport. Presenter Julian Simmons surprised two lucky travellers, Jenny Wambeek and Dave Gingell with a pair of easyJet return flights to celebrate the occasion.
easyJet flies to 36 destinations from Belfast International airport including a brand new, twice-weekly service to Marrakech which launches on 31 October 2019, with fares still available at easyJet.com from £35.99*.
The airline launched services from Belfast in 1998 and since introducing its first flight to London Luton, the airline has remained committed to the airport and customers in Northern Ireland by maintaining a continuous operation.
The airline established itself as Northern Ireland's largest airline in July 2001 and since then easyJet continues to see strong growth at Belfast.
easyJet added a sixth Airbus A320 family aircraft to the base last year which has provided even more seats for customers in Belfast flying to popular business destinations such as London Stansted, Newcastle and Edinburgh, as well as leisure destinations; the airline will fly even more seats this summer to Malaga, Faro and Palma Majorca. easyJet also links Belfast with more London airports than other airlines, providing up to 200 flights a week.
Ali Gayward, easyJet's UK Country Manager, said:
"We are delighted to be celebrating flying 60 million passengers from Belfast International Airport today.
"For more than two decades we are proud to have been providing passengers with an ever-growing range of destinations, all with low fares and great service.
"Our ongoing growth as the largest airline at Belfast International Airport demonstrates our long-term commitment to Northern Ireland.
"I have to thank our fantastic customers who travel to and from Belfast for their loyalty and support. We continue to be excited about the future at Belfast."
Uel Hoey, Business Development Director at Belfast International Airport, commented:
"This is a phenomenal achievement for easyJet today, placed within the context of Northern Ireland's population of two million people. "easyJet's arrival into the Northern Ireland market two decades ago implemented a social and economic step-change in Northern Ireland, heralding the introduction of generally available and affordable air fares, and they have revolutionised travel to and from Northern Ireland and become an intrinsic part of our society in the process.
"This process remains in full swing, and we look forward to working in partnership to create ever greater access for Northern Ireland residents and visitors alike in the years to come."
To book and for more information about easyJet's Belfast network visit www.easyjet.com 
| | | | | | |
| --- | --- | --- | --- | --- | --- |
| | | | | | |